Title:
SIDA / AIDS
Year: 2023 / HTML5/Javascript
Year: 2005 / Flash/Actionscript 2.0
Type: Interactive Kinetic Typography / Performance
Youtube: English
youtu.be/Ee7PlZVHTLo
Vimeo: English
vimeo.com/sechevere/aids
Youtube: Español
youtu.be/3TO4M71jdWA
Vimeo: Español
vimeo.com/sechevere/sida
Artículo:
Esquinas marginales: representación y mirada
, Diana Díaz Soto, 2009
The original message was not altered, keeping all the insults, typos and errors.
Instructions: Click on the red words to view the hidden meaning and move the mouse around to let the words flow.
---
OPEN AIDS in english in a floating window | ABRA SIDA en español en una ventana flotante
---
LINEAR VIDEO • ENGLISH
---
VIDEO LINEAL • ESPAÑOL
In April of 2005 I received a desperate email from someone who argued that he had sex with me a few years ago and that he is now infected with HIV. He wishes that I am also infected with the virus and that "I die and suffer in the worst possible way". He used the nickname
George Tower
, a name I do not remember.
I immediately replied to this email but unfortunately my message bounced back. The reply-to address did not exist. In my response I was saying that I do not have HIV and that he should look for advice and support because being HIV positive does not mean that he has to suffer and die. I tell him that he needs treatment and help, and I can provide some support if he ever needs it.
Because the message did not go through, I decided to create
SIDA/AIDS
as a method of understanding what was going on in the mind of
George Tower
- as of 2023, I still do not know who this person is. The only way I could let that person know that I care about his illness was by creating and posting this interactive animation, de-constructing his message looking for hidden messages and using a mathematical algorithm that I created in order to visualize the chaos that he is living in. His email becomes a flock of words that grow and fill the screen until they lose their meaning, acquiring only an aesthetic significance.
In his message you can perceive that
George Tower
is very afraid of death and he does not want anyone to know that he is Gay because of having AIDS - a stigma that still prevails in societies where
machismo
reigns. You can also see that he still remembered me and he was longing for some form of support. Was
George
one of those one night stands that you barely recall the following morning? Or was he one of my ex-boyfriends that was still angry at me forcing him to use a pseudonym to vent his anger anonymously? In a lot of ways this project is a study of how the laws of attraction work in the Gay Colombian world.
As part of
SIDA/AIDS
I created a performance piece where random users can control the animation that is being projected on my naked body. The performer becomes the center of the aggression, reminding us of the way HIV attacks the bodies and minds of the infected ones.
---
En abril del 2005 recibí este correo de alguien con el seudónimo George Tower (¿Jorge Torres?). Le respondí inmediatamente, pero el correo rebotó, dándome un error de usuario inexistente. Traté de entender el mensaje, y haciendo una deconstrucción del texto entendí que George Tower estaba dominado por el pánico y la rabia. Sus palabras reflejan no solo una frustración interna sino también un miedo a aceptarse como un hombre homosexual. El Sida, al volverse sintomático, lo iba a volver visible en una comunidad probablemente homófoba e intolerante, como lo era la Colombia del 2005. El uso de su lenguaje da ciertas claves, como un nombre posible, Jorge Torres, aunque su correo mekike83 indica su nombre verdadero, Miguel Enrique, y 83 su año de nacimiento. La selección de sus palabras y los insultos revelan su origen geográfico, muy posiblemente paisa o de la zona cafetera. Para sublimar su mensaje tan agresivo, transformé el texto en un poema kinético interactivo descontextualizando y estilizando cada una de sus palabras. George pudo haber sido una aventura de una noche, otro de esos personajes que se cruzan por nuestras vidas, pero su mensaje claramente indica que él sí se acordaba de mí. Hasta el día de hoy, 18 años más tarde, no tengo ni idea quién es este personaje.
Utilizando Flash y ActionScript, convertí el texto en un poema kinético interactivo, que permitía al usuario descubrir el subtexto al hacer click en las palabras en rojo. Inspirado por las imágenes de la película "Los Pájaros" de Alfred Hitchcock, las palabras rompen filas y atacan al usuario representado por el cursor. Mientras más se mueve, más lo persiguen.
Desafortunadamente Flash dejo de ser soportado por los navegadores de Internet a comienzos del 2021 (por culpa de la pelea de Steve Jobs con Adobe), así que escogí crear una versión lineal de la experiencia interactiva, tratando de preservar la memoria de un proyecto que fue muy significativo en su momento en la historia del Net Art en Colombia y América Latina. También es uno de los pocos proyectos interactivos que exploran la naturaleza del SIDA, y su efecto en la psique de los que viven con el VIH. Esta animación refleja un momento histórico que refleja las disparidades en el cuidado de la enfermedad en países del tercer mundo.
---
SIDA/AIDS:
PERFORMANCE
Performance by Santiago Echeverry
Photos by Jim Lennon ©2009




Santiago Echeverry
©2009


English Translation
From: GEORGE TOWER
Subject: WEBSITE MESSAGE
Date: April 6, 2005 12:45:33 PM EDT
To: se [@] santiago-e.com
Reply-To: MEKIKE83@YAHOO.COM
HOMOSEXUAL SON OF A BITCH , YOU ARE GOING TO DIE, AND LEARN WITH WHOM YOU GO TO BED WITH BECAUSE YOU HAD SEX WITH ME WITHOUT KNOWING I HAD AIDS, SO PREPARE YOURSELF FOR THE CONSEQUENCES, I AM CURRENTLY HAVING THE SYMPTOMS, THEY TOOK 5 YEARS TO APPEAR, THEY WILL TAKE LONGER TO APPEAR FOR YOU, BUT YOU DESERVE IT FOR BEING SUCH A FAGGOT PIECE OF CRAP SON OF A BITCH, I HOPE YOU DIE AND SUFFER IN THE WORST POSSIBLE WAY
---
Open
AIDS in English
---
Original version
- including its typos and errors.
From: GEORGE TOWER
Subject: WEBSITE MESSAGE
Date: April 6, 2005 12:45:33 PM EDT
To: se [@] santiago-e.com
Reply-To: MEKIKE83@YAHOO.COM
PEDAZO DE HOMOSEXUAL HIJUEPUTA, DESE POR MUERTO, Y APRENDA CON QUIEN SE ACUESTA POR QUE LAMENTO INFORMARLE QUE UD SE ACOSTO CONMIGO IGNORANDO QUE YO TENIA SIDA, ASI QUE AENGASE A LA S COSECUENCIAS, EN ESTOS MOMENTOS YA ESTOY TENIENDO LOS SINTOMAS, ME TARDARON UNOS 5 AÑOS EN APARECER, A UD LE TARDADRAN MAS, PERO SE LO MERECE POR SER TAN MARIK PEDAZO DE PERRO HIJUEPUTA, OJALA SE MUERA Y SUFRA DE LA PEOR FORMA
---
Abra
SIDA en Español
---
Response
From: se [at] santiago-e.com
Subject: VIH y SIDA
Date: April 6, 2005 2:35:48 PM EDT
To: MEKIKE83@YAHOO.COM
Hola George Tower
Empezar a tener los sintomas no es simbolo de que se va a morir. Si empieza a tomar la terapia anti retro viral ahora, se pueden revertir. Lo mas importante es mantener la carga viral en niveles imperceptibles.
No puedo saber lo que usted siente en este momento, porque no tengo el VIH. Mi ultimo examen fue en enero. pero si le puedo decir que si necesita hablar de esto con alguien, por favor mandeme un email y dejeme saber lo que siente.
usted esta pasando por una fase que es normal. No es el unico, y no es la primera persona con la que me he acostado que tiene sida. Pero por favor hable y busque ayuda medica, tener el VIH, y hasta tener los sintomas del SIDA ya no es una sentencia de muerte.
De verdad, lo que cuenta es que usted este vivo, saludable y tranquilo.
Mandeme otro email, con mas calma.
Suerte
Santiago
---
OPEN
SIDA en español
| OPEN
AIDS in english
| OPEN
AIDS 2.0 for gallery display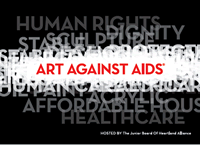 AIDS
/
FDrag Print
- Participant Art Against AIDS ® 2009, Feb 26th
---