Title:
LA VIE EN ROSE
Year:
2013
Duration:
4'45"
Type:
Video art, Experimental, Kinect video
Performers:
Jimmy Boots, Yasha, Byron, Edwardo
Music by:
Sade Morgana
Edited by:
Sade Morgana
( Rafael Antonio Rodríguez Piedrahita )
Kinect, DP & Production:
Sandra Liliana Rengifo Peláez
Vocal Coach:
Jerry Reynolds
Fashion and Accessories:
Fetish Maker
facebook.com/fetishmakerbog
Directed by:
Santiago Echeverry
Funds by:
DANA Grant, University of Tampa, 2013
IMDB
:
imdb.com/video/wab/vi1026729497
YOUTUBE
:
youtu.be/9Y0RNoKbNYM
VIMEO
vimeo.com/64421934
Official site: http://santi.tv/rose
LA VIE EN ROSE
studies how the LGBTI intimacy is interpreted by scared outsiders through the beauty of three-dimensional pixelation. The piece was totally produced in Colombia as a frame by frame animation, using the individual images produced by Processing 2.0, a webcam and the Kinect sensor. It uses the SimpleOpenNI library developed by
Max Rheiner
modifying the code to increase performance and quality as well as to explore aesthetic implications, especially when dealing with the LGBT flag colors for the body detection. Over 28000 still frames in TIFF format were used to create the final version in a 4'45" video, using a MAC OS X laptop and an external hard-drive to store these large files. The software used for the edition was AVID, and the music was composed and arranged exclusively for this project by Colombian experimental musician
Morgana Sade
. All the fetish accessories were provided by Colombian designer
Fetish Maker
.
As a video maker, it is important to explore new tools in narrative and experimental cinematography. What the Kinect combined with code in Processing offers is the equivalent of what the early mechanical television sets or early film tests, that is a glimpse into what the future of visual expression could be. As an openly gay director, it is important to use these new technologies so there is a record of our perspective on life, traditionally and sometimes forcibly hidden. As a Colombian who has experienced personally the history and consequences of the violence culture, this piece has become a disruptive statement of the radical consequences we face for being perceived as different.
---
LA VIE EN ROSE es un video experimental creado con el sensor Kinect y el programa Processing. La cámara se convierte en proveedora de información numérica espacial. Temáticamente, se explora la manera fachista como los homosexuales somos percibidos, usando elementos visuales a los que llamo "porntillismo". Toda la estética fetichista se descompone en un video hiperviolento que hace una directa referencia al procurador colombiano Ordóñez y sus visiones de extrema derecha que tanto están afectando a nuestra comunidad, así como el radicalismo en Rusia y Africa. Existe una población grande en el mundo que preferiría vernos muertos, exterminados, sin acceso a los mismo derechos básicos de cualquier otro ciudadano. Y esta presión constante, este miedo a la violencia se sublima con juegos de roles y experimentos muy privados, que nos ayudan, a seguir con nuestras vidas. Esta tecnología está apenas en pañales, y para mí es una responsabilidad enorme, como realizador abiertamente homosexual, usarla de manera expresiva, para dejar constancia de que una minoría histórica estuvo presente en el desarrollo de nuevas narrativas tecnológicas. Así como el primer filme sonoro fue de dos hombres bailando amacizados, uno de los primeros experimentos con el Kinect en video es de varios hombres jugando sexualmente - en condiciones violentamente desfavorables ( haciendo referencia también a la escalada de los ataques homofóbicos en varios paises).
---
SMALLER FORMAT 432x320 - 25MB for slower connections - DOWNLOAD 430x232 MP4





LARGER FORMAT 900x506 - 95MB for faster connections - - DOWNLOAD 1280x720 MP4 / FULL HD 2.1GB 1920x1080 H.264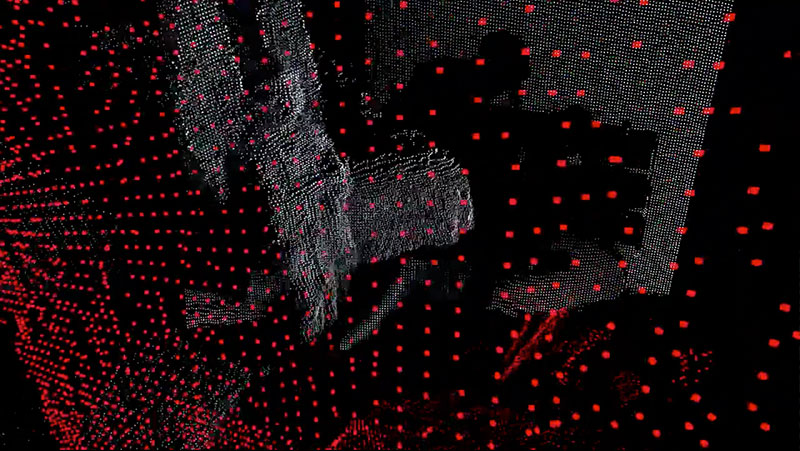 Poster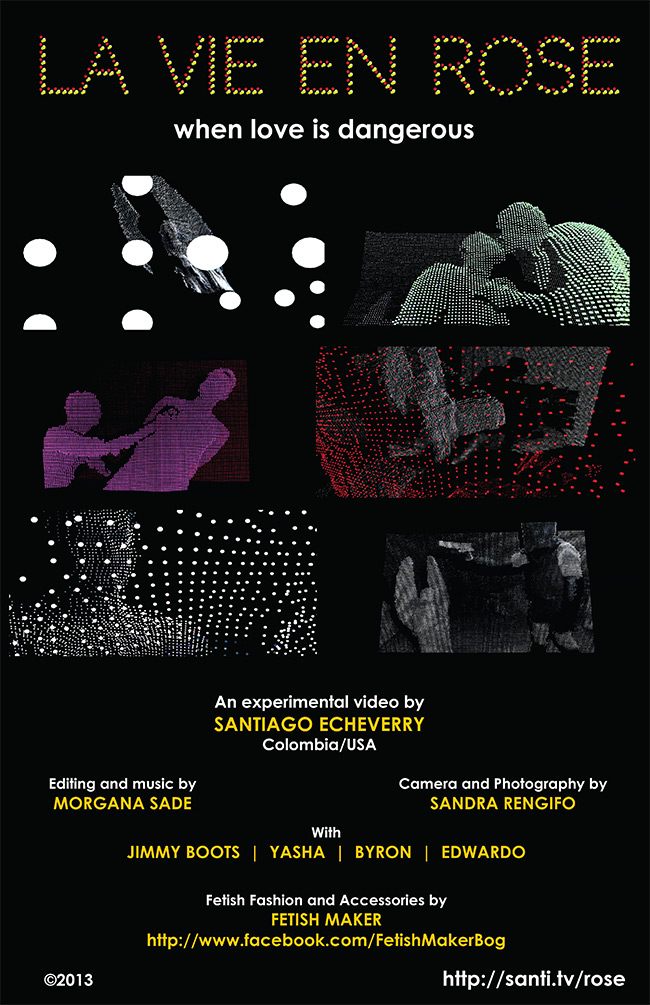 Production stills